About Me and Tree Glass Studios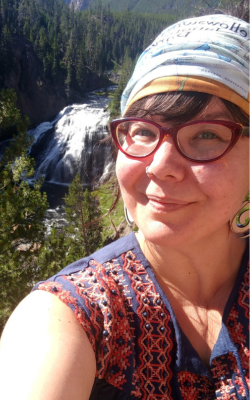 Hello!
I'm Katie (she/they) and am the creator and owner of Tree Glass Studios. I learned the stained glass trade from my dad who has been a stained glass artist for 40 years.

My creations are inspired by our earth and the cosmos. I enjoy creating pieces that remind us that we are a part of the earth; that our legacy and heritage are the flora, fauna, and animal families.

I officially opened Tree Glass Studios in 2019 and operate out of my home glass studio in Hanover, PA. The stained glass and fused glass pieces I create are hand cut, soldered or fused together in my kiln, and assembled from patterns of my original design (with few exceptions).

Fragile and evergreen, tree glass.
The idea of "tree glass" came to me as I was driving one winter morning. I rounded a bend in the road full of spruce that were covered with ice from the overnight sleet. The sun shone on the branches, lighting the ice-covered needles into millions of crystals, creating a glass effect and the idea of Tree Glass Studios was born.

Watch how I create my art (and see my cats, chickens and spouse, Leigh!) on Instagram and Facebook.

Commissions are accepted on occasion. Please use the Contact page and send me your ideas.

Thank you for supporting my art.